Before Charles and I came to see Dr. Pfeiffer we had so much pain that it interfered with everything we did. We were both experiencing pain in our lower back and legs. We never had any treatment for it. We decided to seek chiropractic care because we wanted to avoid surgery. We found Upper Perk Chiropractic Center through a google search. They had the best reviews.
Now Charles and I feel 100% better. We can do our daily activities with no pain now. We have 5 boys to keep up with every day, so chiropractic has been a big benefit to our lives. We both can do family things with the kids and work every day with no pain. To share with others, chiropractic is definitely the way to go before thinking about surgery.
Heather and Charles May
---
I was experiencing severe pain and limited use of my right arm when I began my care with Dr. Pfeiffer at Upper Perk Chiropractic Center. My grandson Jaxson, who is 3 years old was cranky and not sleeping. His body seemed to be twisted so I brought him to Dr. Pfeiffer to see if chiropractic care could help him.
My pain is now much more manageable than it was previously. I am using my right arm and it feels normal. I am also able to work again. Jaxson is now a normal, healthy 3-year-old. Star of Dr. Pfeiffer's office!
Steve, Jaxson and Dessa
---
My pain gradually increased as I was at work and ran an errant to the office supply store. I had carried a full box of copier paper to the car because I was invincible at 40ish. I went to my family doctor and physical therapy, neither one helped me quick enough. My family suggested chiropractic care with Dr. Pfeiffer. It was the best thing I could have done!
I began feeling much better and decided to continue care. Now, after three years of maintenance care I continue to feel great! Dr. Pfeiffer has been a very caring professional for myself and my husband. I have also recommended others to get under his care. I have followed his suggestions and exercises as well.
Katherine and Bill Sweazy
---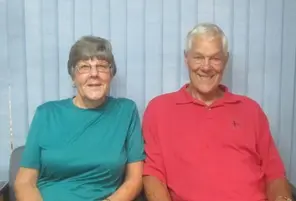 In the late winter of 2021, I began to have severe lower back and leg pain that would not subside after a night's rest. After trying to get relief by using over the counter pain meds, my brother suggested that I see Dr. Pfeiffer of Upper Perk Chiropractic Center. Thankfully, I was able to quickly get an appointment and my chiropractic journey began. The diagnosis was one when a complete reverse of the lower spine degeneration was not possible with just chiropractic treatment. However, Dr. Pfeiffer assured me that chiropractic treatment would help to keep things from getting worse and would alleviate some of the painful symptoms. After a year and a half of treatments that has been my experience. My pain level has greatly decreased, and my mobility has returned. I was having trouble going up and down our outside stair entrance to our house and unable to walk any distance. The stairs have become easy to climb and walking is no longer a problem. I continue to see Dr. Pfeiffer in regular intervals to make sure that my back is stable and not regressing.
About a year ago my husband also began seeing Dr. Pfeiffer for upper back and neck stiffness. Treatment has greatly improved his movement and mobility. He also sees Dr. Pfeiffer regularly and has been pleased with the results. We would both testify that chiropractic has helped and been a welcoming asset for us.

Faye and Jim Hertzler

---
I injure my left hip all the time. I had this pain for a very long time and it did not resolve. I decided to take the steps to get help. My son recommended that I see Dr. Pfeiffer. My friend walked with a walker due to severe lower back pain and sciatica and my son told him the same thing so we decided to make an appointment with Dr. Pfeiffer.
Neither my friend nor I have pain any longer. I have some residual numbness in my foot because I waited so long to seek help. Dr. P is helping me with that too. My friend is now walking without a walker and driving the car again.
Jodi Tompkins and Mark Saddington
---
Our family has been relying upon Dr. Pfeiffer for over 25 years. During her senior year in high school, our daughter suffered a sports related neck injury. She was treated by Dr. Pfeiffer and went on to compete at the state level. Shortly after retirement I began to experience severe nerve pain in my left leg. Sciatica! Weeks of doctor visits, injections and physical therapy proved futile. It was at this point that I recalled the success my daughter had with Dr. Pfeiffer at the Upper Perk Chiropractic Center.
A phone call, a few office visits, a daily regimen of stretches and, with the gifted hands of Dr. Pfeiffer, I found relief. After witnessing my newfound comfort, my wife, with her degenerative disc and lower back pain, realized that she also could benefit from chiropractic care. Over the years, along with our monthly treatments, we have also followed Dr. Pfeiffer's "eat healthy" mantra. Dr. Pfeiffer, for over 25 years, has enabled our family to improve our quality of life, regain mobility and ease us through the aging process. Twenty-five years… time flies!
Lee & Betty Shoemaker
---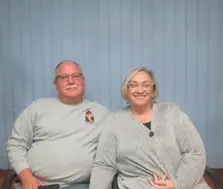 Prior to starting chiropractic care, my back pain prevented me from fulfilling my job duties as a nurse and EMT. I was unable to lift my daughter, complete basic household chores and sleep comfortably. Prescription medications only masked the pain temporarily. Since my initial treatment with Dr. Pfeiffer in 2001, I can fulfil my job duties and have participated in activities with my family that I was unable to prior to treatment. Maintenance care has kept me functioning at my best. I faithfully go to my maintenance appointments to keep my back & entire body feeling good. My immediate family and extended family also enjoy the benefits of chiropractic care. I would recommend chiropractic care for everyone, especially those who are looking for alternatives to treatment of only symptoms.
Jennifer & Don Pyne

---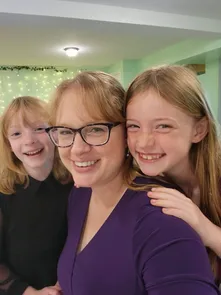 I had been experiencing lower back pain consistently for years before making an appointment with Dr. Pfeiffer. I had previously struggled through the pain and dealt with reduced range of motion.
Chiropractic care helped me with my alignment and posture. My range of motion is increased, and the lower back pain is reduced. In addition to the adjustments, Dr. Pfeiffer provides stretches to do at home which help the process. Chiropractic care was very helpful for me. I started bringing my daughters to get adjustments as well. He explains what he is doing and makes them feel comfortable about the process.
Jamie, Samantha, and Amelia McKevitt
---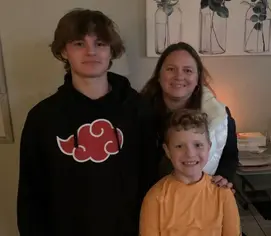 I was first introduced to Dr. Pfeiffer through the gift of his clean program approximately 15 years ago! Since then, I've attended numerous of his health and wellness seminars and started on his maintenance program of twice a month chiropractic adjustments. I suffer from bad hips and neck tension. From the moment I get adjusted and am off the adjustment table, I feel immediate stress relief. Through attending his seminars, I learned the importance of keeping a healthy, aligned spine and now my two boys are also on the maintenance program for once-a-month adjustments.
Being a mom of active, growing boys, we make it a priority to include Dr. Pfeiffer's care in our busy schedule. They've been cared for through sports injuries, ear infections and me through pregnancy, car accidents and slips & falls. I know he is only a phone call away should one of us need to be seen ASAP. He also keeps Alex going with his infamous healthy "green juice". It takes a village to raise healthy, happy children and I am so thankful that Dr. Pfeiffer is a part of our village!
Kendra, Isaac, and Alex
---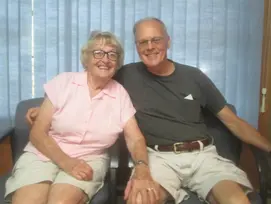 My wife Doris and I both had severe pain in our backs on and off for years. We took steroid meds and different pain meds at different times. The pain would lessen and later come back. Doris even had injections at trigger points in her back. Both of us tried physical therapy several different times. A good friend recommended Dr. Pfeiffer to Doris and after he worked on her spine, her pain went away, and I started chiropractic on my back because of Doris' good results.
Doris' pain is gone, and my pain is much less. I can now sleep through the night. Before chiropractic Doris could not sleep, ride in the car or do too much of anything. With much less pain now, I can cut, split, and stack firewood and ride the tractor to mow the lawn and we both work in the gardens. If you have severe pain in your back, take it from us, chiropractic care with Dr. Pfeiffer can really make a great difference.
Bert & Doris Stover
---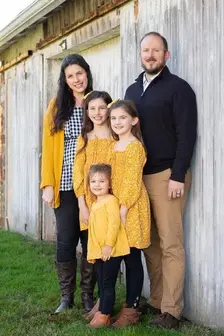 My three girls often complained of headaches, aching legs, and backs. Regular visits to the chiropractor seemed as important for them as is the case for mom and dad. It was natural for us to start taking them for adjustments.

I had no idea how routine adjustments help maintain health. Ear infections lessened; headaches disappeared – growing pains improved. I encourage any family to make chiropractic care a family health goal. Children will watch and learn. My children now tell me when they need to see Dr. Peiffer. They know their bodies!
Jennifer Dieffenbach & Family