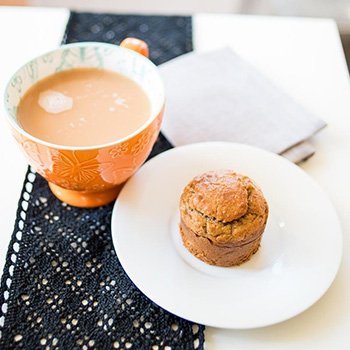 Keto Cinnamon Muffins
Prep: 10 min
Cook: 20 min
Yield: 12 muffins
Ingredients:
3 cups (360 g) almond flour
1/2 cup (120 ml) ghee or coconut oil, melted
4 large eggs, whisked
1/4 cup cinnamon
1 teaspoon nutmeg
1/4 teaspoon cloves
1 teaspoon (5 ml) lemon juice
Stevia, to taste
1 teaspoon baking soda
Directions:
Preheat oven to 350 F (175 C).
Mix together all the ingredients in a large mixing bowl.
Pour into muffin pans (use silicone muffin pans or grease the metal pans). Makes 12 muffins.
Bake for 18-20 minutes until a toothpick comes out clean when you insert it into a muffin.
Nutritional data per muffin:
Calories: 243
Fat: 22 g
Total Carbs: 6 g
Fiber: 4 g
Sugar: 1 g
Net Carbs: 2 g
Protein: 7 g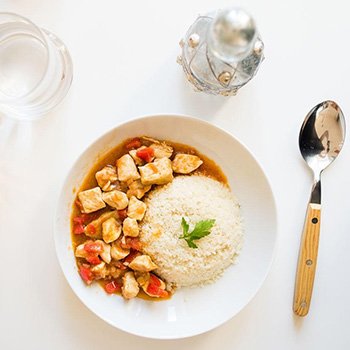 Easy Keto Thai Chicken Curry with Cauliflower "Rice"
Prep: 15 mins
Cook: 15 mins
Yield: 4 servings
Ingredients:
2 chicken breasts, diced
1 onion, peeled and diced
1 red bell pepper, diced
2 cloves of garlic, peeled and diced
4 tablespoons (60 ml) coconut oil to cook with
3 tablespoons green or red curry paste or 2 tablespoons of curry powder with 3 Tablespoons coconut cream
Salt and pepper, to taste
Directions:
Add in 4 tablespoons of coconut oil into a frying pan on medium heat and add the diced chicken. Add in the onions and peppers.
Add in the curry paste to flavor the chicken. Add salt and pepper to taste.
Serve the chicken curry on top of white cauliflower rice.
Nutritional data per serving:
Calories: 357
Fat: 26 g
Total Carbs: 7 g
Fiber: 2 g
Sugar: 2 g
Net Carbs: 5 g
Protein: 24 g
White Chocolate Fat Bombs
Prep Time: 5 minutes
Cook Time: 10 minutes
Total Time: 15 minutes
Yield: 8 fat bombs
Serving Size: 1 fat bomb
Calories per serving: 125
Fat per serving: 14g
Ingredients
1/4 cup cocoa butter (about 0.25g)
1/4 cup coconut oil
10 drops SweetLeaf Vanilla Creme Stevia drops
Instructions
1. Melt together cocoa butter and coconut oil over low heat or in double boiler.
2. Remove from heat and stir in vanilla flavored stevia drops.
3. Pour into molds.
4. Chill until hardened.
5. Remove from molds and keep stored in the refrigerator.
Makes 8 fat bombs (1 tablespoon healthy oil each)
Nutrition per serving: 125 calories, 14g fat, 0g carbs, 0g protein
---
Bacon Wrapped Guacamole Stuffed Chicken
Prep Time: 10 minutes Cook Time: 20 minutes Total Time: 30 minutes Servings: 4
Tender chicken breast stuffed with creamy guacamole and wrapped in bacon that's grilled until the bacon is nice and crispy!
Ingredients:
· 4 (6 ounce) chicken breasts, butterflied or pounded thin
· salt and pepper to taste
· 1/2 cup guacamole
· 8 slices bacon
Directions:
1. Lay the chicken flat, season the outside with salt and pepper, spread 1/4 of the guacamole on each of the chicken breasts, roll them up and wrap each in 2 slices of bacon
2. Grill over indirect medium heat, with the lid down, until the bacon is crispy and the chicken is cooked (160F to 165F), about 20-30 minutes, or bake in a preheated 400F/200C oven on a wire rack on a baking pan until cooked, about 20-30 minutes, turning the oven to broil for the last few minutes to ensure that the bacon is crispy.

Option: Replace the salt and pepper with your favorite seasoning blend.
Option: Add flavors to the guacamole like sundried tomatoes or blue cheese, etc.
Nutrition Facts: Calories 338, Fat 17.5g (Saturated 3.6g, Trans 0),Cholesterol 104mg, Sodium 670mg, Carbs 4.3g (Fiber 2g, Sugars 1g),Protein 44.5g
---
Bacon-Parmesan Spaghetti Squash
Ingredients
1 large spaghetti squash (about 4½ pounds)
1 pound bacon
¼ cup butter (1 cube - 8 tablespoons). cut into pieces
1 cup shredded parmesan cheese
Salt and pepper, to taste
Instructions
1.Preheat oven to 375 degrees F. Line a baking sheet with parchment paper.
2.Carefully cut stem end off of the spaghetti squash and discard. Cut squash into approximate 1" rings, width-wise. With a spoon or tip of a knife, gently remove seeds and pulp from each ring; discard.
3.Place spaghetti squash rings laying down on prepared baking sheet. Bake in oven for about 40-45 minutes or until strands separate easily when scraped with a fork.
4.While the spaghetti squash is baking, cut your bacon into pieces and cook in a large skillet over medium heat, moving and turning frequently, until bacon is fully cooked and crispy. With a slotted spoon, remove bacon pieces from skillet and set aside.
5.Remove the spaghetti squash from the oven and allow to cool slightly. Remove shells of each ring and separate stands with a fork. Place strands in a large bowl.
6.Add butter to your warm spaghetti squash (if your strands have cooled too much, heat in the microwave a bit) and toss with the strands until the butter is fully melted and incorporated. Stir in parmesan cheese and bacon crumbles. Season with salt and pepper and serve.
Notes
--Due to variances in size of the spaghetti squashes and the amount of strands you get from your squash, please feel free to adjust the measurement of the ingredients to your personal taste.
---
Philly Cheesesteak Stuffed Peppers
By THE BOSS on February 07, 2014
Photo by Anonymous
Prep Time: 20 hrs
Total Time: 20 hrs 30 mins
Servings: 4-6
ABOUT THIS RECIPE
"Via Pinterest"
INGREDIENTS
8 ounces thinly sliced roast beef
8 slices provolone cheese
2 large green bell peppers
1 medium sweet onion
1 (6 ounce) packages baby bella mushrooms
2 tablespoons butter
2 tablespoons olive oil
1 tablespoon garlic, minced
DIRECTIONS
Slice peppers in half lengthwise, remove ribs and seeds.
Slice onions and mushrooms. Saute over medium heat with butter, olive oil, minced garlic and a little salt and pepper. Saute until onions and mushroom are nice and caramelized. About 25-30 minutes.
Preheat oven to 400*.
Slice roast beef into thin strips and add to the onion/mushroom mixture. Allow to cook 5-10 minutes.
Line the inside of each pepper with a slice of provolone cheese.
Fill each pepper with meat mixture until they are nearly overflowing.
Top each pepper with another slice of provolone cheese.
Bake for 15-20 minutes until the cheese on top is golden brown.
---
Balsamic Glazed Steak Rolls
Ingredients
8 thin slices sirloin or flank steak (length and width according to personal preference)
Extra virgin olive oil
Salt and freshly ground black pepper
Fresh rosemary, chopped
1 red bell pepper, sliced into thin strips
1 green bell pepper, sliced into thin strips
1 medium zucchini, sliced into thin strips
1 medium yellow onion, halved and then thinly sliced
A few white button or cremini mushrooms, cut into thin strips
For the Rosemary Balsamic Glaze:
1 teaspoon extra virgin olive oil
1 large clove garlic, minced
1/4 cup dark balsamic vinegar
2 tablespoons dry red wine
2 teaspoons brown sugar
2 sprigs fresh rosemary
¼ cup Progresso™ beef flavored broth
Directions
Rub each side of the steak slices with a little extra virgin olive oil. Sprinkle with salt, freshly ground black pepper and some chopped fresh rosemary.
2. Heat one tablespoon of extra virgin olive oil in a skillet over medium-high heat and cook the vegetables until crisp-tender, seasoning with salt and pepper.
3. Place a few of the vegetable strips vertically on one end of each steak cutlet so that once rolled up the end of the vegetables are sticking out of each end of the steak roll. Roll it up, and secure it with a toothpick. Repeat for each steak roll.
4. For the rosemary balsamic glaze: Heat the olive oil in a small saucepan over medium-high heat. Add the garlic and cook for one minute, until fragrant. Add the balsamic vinegar, red wine, brown sugar and the rosemary sprigs and bring to a rapid boil. Reduce the heat and simmer uncovered for 5 minutes. Add the broth, return to a boil, reduce the heat to low and simmer for another 15 minutes. Discard the rosemary sprigs.
Prepare the grill and grill on each side for about 2 minutes or according to desired doneness. Do the same if cooking them in a skillet, frying over medium-high heat until done. Serve immediately drizzled with the rosemary balsamic glaze. Baked potatoes make a great accompaniment.
---
BLACKBERRY COCONUT FAT BOMBS - PALEO
Serves: 16 small squares
Serving size: 1 square
Calories: 170
Fat: 18.7g
Carbohydrates: 3g
Fiber: 2.3g
Protein: 1.1g
Prep time: 5 mins
Cook time: 5 mins
Total time: 10 mins
INGREDIENTS
· 1 cup coconut butter (see note for how to make homemade)
· 1 cup coconut oil
· 1/2 cup fresh or frozen blackberries (can use raspberries or strawberries if desired)
· 1/2 teaspoon SweetLeaf Stevia Drops (add a bit more for sweeter taste)
· 1/4 teaspoon vanilla powder (Paleo) or 1/2 teaspoon vanilla extract
· 1 tablespoon lemon juice
INSTRUCTIONS
1. Place coconut butter, coconut oil and blackberries in a pot and heat over medium heat until well combined.
2. In a food processor or small blender, add berry mix and remaining ingredients. Process until smooth.
3. Spread out into a small pan lined with parchment paper (I used 6x6-inch container)
4. Refrigerate one hour or until mix has hardened.
5. Remove from container and cut into squares.
6. Store covered in the refrigerator.
NOTES
To make coconut butter, place about 2 cups unsweetened dried coconut flakes into food processor and process until butter forms (about 7-8 minutes).
0.8g net carbs
---
ALMOND PISTACHIO FAT BOMBS
Yield: Yields 36 squares
NF based on 1 of 36 squares

INGREDIENTS
· 1/2 cup cacao butter, finely chopped and melted
· 1 cup all natural roasted almond butter (or make your own)
· 1 cup creamy coconut butter (or make your own)
· 1 cup coconut oil, firm*
· 1/2 cup full fat coconut milk, chilled overnight*
· 1/4 cup ghee (or make your own)
· 1 tbsp pure vanilla extract (or make your own)
· 2 tsp chai spice
· 1/4 tsp pure almond extract
· 1/4 tsp Himalayan salt
· 1/4 cup raw shelled pistachios, chopped
INSTRUCTIONS
1. Grease and line a 9" square baking pan with parchment paper, leaving a little bit hanging on either side for easy unmolding. Set aside.
2. Melt the cacao butter in a small saucepan set over low heat or in the microwave, stirring often regardless of which option you chose. Reserve.
3. Add all the ingredients, except for cacao butter and shelled pistachios, to a large mixing bowl. Mix with a hand mixer, starting on low speed and progressively moving to high until all the ingredients are well combined and the mixture becomes light and airy.
4. Pour the melted cacao butter right into the almond mixture and resume mixing on low speed until it's well incorporated.
5. Transfer to prepared pan, spread as evenly as possible and sprinkle with chopped pistachios.
6. Refrigerate until completely set, at least 4 hours but preferably overnight.
7. Cut into 36 squares and splurge!
---
GARLIC BASIL PARMESAN CRISPS
Cook time
5 mins
Total time
5 mins



INGREDIENTS
parmesan cheese, shredded
garlic powder
basil, finely chopped
INSTRUCTIONS
Preheat your oven to 350*F.
Line a baking sheet with parchment
paper. Place tablespoons of the parmesan
cheese on the baking sheet, spreading each heap out into a thinner circle. Sprinkle with garlic powder and basil.
Bake in the oven for 5 minutes or until the outside edges become golden brown. Enjoy them crispy!
Strawberry Cheesecake Fat Bombs
Ingredients
1/2 cup strawberries, fresh or frozen
3/4 cup cream cheese, softened
1/4 cup coconut oil, softened
10–15 drops liquid stevia
1 vanilla bean
Directions
Place the cream cheese and butter cut into small pieces in to a mixing bowl. Leave at room temperature for 30–60 minutes until softened. Make sure the butter is softened, otherwise it will be difficult to mix and achieve a smooth texture. Do not microwave the butter – the mixture needs to stay firm.
Meanwhile, wash the strawberries and remove the green parts. Place them into a bowl and mash using a fork or place in a blender for a smooth texture.
Add the powdered Erythritol (or stevia), vanilla extract and mix well. Before you mix the strawberries with the remaining ingredients, make sure they have reached room temperature.
Add to the bowl with softened butter and cream cheese.
Use a hand whisk or food processor and mix until well combined.
Spoon the mixture into small muffin silicon molds or candy molds. Place in the freezer for about 2 hours or until set.
When done, unmold the fat bombs and place into a container. Keep in the freezer and enjoy any time! smile emoticon

Nutrition facts (per serving):
Total carbs: 0.99 g
Fiber: 0.14 g
Net carbs: 0.85 g
Protein: 0.96 g
Fat: 7.4 g
Energy: 67 kcal
---
Cilantro Lime Dressing
Yield: Serves 4
Ingredients
½ Cup Lime Juice
½ Cup Extra Virgin Olive Oil
½ Cup Cilantro Leaves, Packed
Directions
Process in blender until smooth